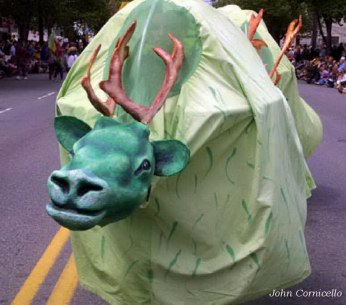 Puppeteer Andrew Kim works as a builder, performer, director, and instructor in a variety of theatrical styles from outdoor spectacles to indoor plays to funky cabaret pieces. He is based on Vashon Island, outside of Seattle, Washington where he is active with several theater companies and community arts organizations.
He is the recipient of several awards including two Travel and Study Grants (Jerome, Dayton Hudson and General Mills Foundations), a Fellowship from the Minnesota State Arts Board, and project grants from the Jim Henson Foundation and the National Endowment for the Arts. Andrew was named "
Best Director
" in the 2001 City Pages Best of the Twin Cities and the 2001 "
Theater Artist of the Year
" by the Minnesota Daily.
His recent work includes co-creating and directing two new full-length plays:
CITY RHAPSODY
(HOBT, Nov. 2000),
PASSAGE
(Theater Mu, March 2001), creating and performing a solo clowning piece:
LOT
(Three Legged Race, April 2001 and Northwest Asian American Theatre, May 2001), performing his first full-length solo show,
WANT
(
Center for independent Artists
, Minneapolis, Dec. 2001), and being a lead builder for several parades and pageants:
MayDay
(HOBT, May 2001),
Summer Solstice
(Fremont Arts Council, June 2001), and
Islewilde
(August 2001).
Andrew's upcoming work includes directing TIGER ON TIPTOE for
Thistle Theatre
(Feb. 2002), developing a new play with the
UMO Ensemble
(Vashon, ongoing), co-creating and performing a new play with the
Northwest Asian American Theatre
(Seattle, May 2002), directing the Fremont Summer Solstice Pageant (Seattle, June 2002), and co-creating and directing
BARI GONGJU
, a puppet show using live Korean music and elements of Korean Shamanism (Korea, Sept. 2002).
Andrew is also helping to form Monkey Wrench Puppet Lab-- a Vashon-based collection of puppeteers dedicated to sharing tools, space, time, ideas and artistic leadership to generate beautiful, passionate, ridiculous and profound puppet plays and events.